Preschool Furniture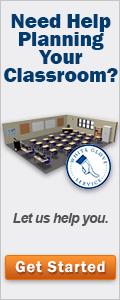 When it comes to preschools, daycares and early education, the right preschool furniture is imperative to a child's learning experience. Ergonomics plays an essential role in both learning efficiency and physical growth.
Therefore, it is extremely important to create a classroom environment that includes educational preschool furniture that is appropriately sized for little ones. Educational furniture, such as floor rugs, visually reminds children of primary colors, numbers and shapes, in turn helping memory retention. Our wide variety of preschool classroom furniture was selected with early education as the focus of our decision-making. All of our furniture caters to young children in order to make learning a priority.
From Preschool tables and chairs to changing tables and cribs, Teachers School Supply has everything you need to furnish your classroom. Our goal is to help make it easy to create a positive environment that facilitates early learning. Using creativity to make a classroom fun and playful promotes learning through play, which is the easiest way for children to learn.
All of our high-quality preschool classroom furniture is made from the best materials, ensuring that each item is long-lasting. Preschool furniture should also be safe in order to prevent accidents. We make sure all of our preschool furniture is durable and safe, so you can get the best equipment at exceptional prices!

Teachers School Supply is a one-stop shop when it comes to all your preschool furniture needs. Along with preschool classroom furniture, we also offer a variety ofpreschool supplies, to complete your daycare or preschool.